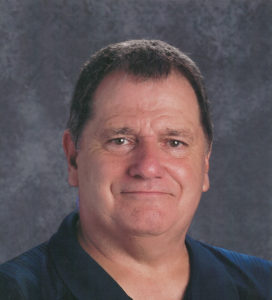 2017 inductee Wally Russell epitomizes what the Maine Basketball Hall of Fame represents. An All-State high school player, a magician at the point guard position at Division I UMaine and a long time successful coach.
Folks in the Milo area will tell you Wally Russell is one of the best players ever to wear the red, white and blue of Penquis High School. He played for legendary coach Carroll Conley Sr. In his 1973 season season, Wally led his Patriots to a 14-4 record and a quarterfinal win over John Bapst before losing in the semis to eventual state champ in Class B, the Orono Red Riots. Wally averaged almost 24 PPG and over 8 APG while shooting 57%. Russell was named to the All-Penquis League Team, the Eastern Maine All-Tourney Team Bangor Daily News First Team All-State selection.
From Milo, it was off to the University of Maine in Orono, playing his college ball for Black Bear coach Skip Chappelle (MBHOF '14) for four years. In his junior year (1976-77) and senior year (1977-78) Russell and his Black Bears racked up 30 total wins. Russell ran the point for teams that included Rufus Harris, Roger Lapham, Steve Condon (MBHOF '15), Bob Warner (MBHOF '15) and Kevin Nelson (MBHOF '16). The 'magic man from Milo' dished off 235 assists in that two-year period (4.4 APG, 5.4 APG). In that senior season, Russell served as team captain and averaged 11 points per game and the Black Bears finished with a 17-8 record.
Wally says his favorite college memory is beating UConn and UMass back-to-back at 'The Pit' at UMaine.
Then his basketball career took him into the coaching ranks. Russell coached at Mattanawcook Academy, at Piscataquis Community High School and back home at Penquis where he had stints coaching the girls and boys teams. In 20-plus seasons of coaching, Russell won 211 games.
Former UMaine teammate Tony Hamlin (MBHOF '16) told the Bangor Daily News in 2010 that nobody had their team better prepared than coach Wally Russell.
"What Wally had was an instinct about the game. He knows the game, it was part of his DNA almost," said Hamlin, then Penquis coach. "From that perspective, he was never going to get outcoached in terms of strategy."
Wally says, "I would like to thank my biggest supporters, my wife Nancy and our children, Jill, Kerri, Megan and brother Mark. Thanks go out to my close friend Tony Hamlin for all of his positive and encouraging 'pick me up talks' while I was playing and coaching. I would like to thank my coaches, Carroll Conley and Thomas 'Skip' Chappelle. A special thanks to my friend Bill Sawtelle for all the milkshakes he lost while playing Three X's. I wish to thank those supporters of my family who have passed, my father and mother, Charlie and Jacky, and my brother and sisters Scott, Esther, and Lisa, and my father-in-law James Fletcher."
Wally and his wife, Nancy, live in Brownville.