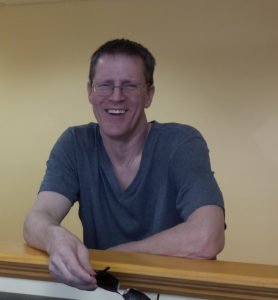 In third grade, Paul Cook picked up a ball at a relative's house and shot some baskets. He was hooked. "That's all I wanted to do," he says.
During winters, Cook shoveled out his driveway and built a snow pile to jump off and try to dunk. And every season, he dribbled around the town of Lubec and looked for baskets to shoot at and games to play in.
eople just accepted that in the middle of their supper, I'd be playing in their driveway. It was a very supportive community."
And when he shot up from about 5-10 to 6-5, he became a force. As a senior, in a class of 33 students, he averaged 30-plus points and nearly as many rebounds per contest for the No. 1 seeded Class D Hornets.
Cook says his mother, an English teacher, made him write a letter to then-University of Maine men's hoop coach Skip Chappelle stating that he wanted a scholarship to play basketball at the Division I school.
"I told my mother that I didn't know a lot about Division I, but I did know that's not how it works," he laughs.
After being named All-State in 1979, Cook played a postgraduate year at Maine Central Institute in Pittsfield to refine his skills. He says the traveling, the high-level competition, and being away from home helped him develop as a player and a person.
And, in 1980, Cook was an integral player for the 26-1 MCI Preppers who won the New England Championship. In the title game, Cook poured in 14 points and snagged 17 boards against Worcester Academy and future UMaine teammate Jeff Cross.
Cook did get that scholarship at UMaine, and became a teammate of Rick Carlisle, Champ Godbolt and Cross, all of whom were drafted by NBA teams.
Because of Chappelle's friendship with Celtics great K.C. Jones, the Black Bears got to attend Celtics practices to watch Larry Bird, Bill Walton and other legends.
During the 83-84 season, Cook captained the Black Bears and averaged 6.7 rebounds a contest. After college, he played for Hamlet Motel and won five Class A Semi-Pro State Championships. And later, he coached youth and AAU teams.
"Basketball has opened a lot of doors and I've got to meet incredible people," Cook says. "And I've been dunked on by every big guy you can name."
Cook has two children — Jordan and his wife, Mallory and Justine and her husband, Adam. He also has a granddaughter, Riley.