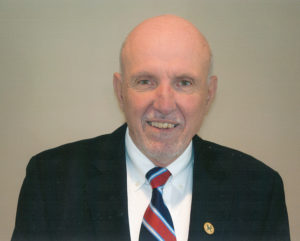 Dick Giroux grew up in Maine's hockey hotbed city of Lewiston and even he thought when he was a youngster hockey would be his sport.
But that changed in junior high when a basketball coach gave him a neat looking pair of sneakers. The move helped him decide that hoops was his future.
Good decision.
From starring at Lewiston High School to starring at Husson University and now the doors of the Maine Basketball Hall of Fame open for the guy the Lewiston Daily Sun nicknamed 'The Classy Cornerman'.
Giroux played his high school basketball in the mid-1960's for longtime Lewiston coach Fern Masse (MBHOF Class of 2016). As a junior in 1965, Dick helped lead the Blue Devils to the Western Maine LL (now Class AA) championship. He scored 22 points in the regional final win over Cheverus and won the George Vinal Trophy MVP Award. Giroux went on to score 19 points in the state title game at the Bangor Auditorium. His Lewiston team came up on the short end of a 76-66 game vs Stearns.
His senior year of 1966 was a second straight trip to the state championship game. Giroux scored 34 points in the West Regional title win over Rumford. His 26 points per game tournament garnered him another George Vinal MVP Award. The Blue Devils lost to the Cony Rams in the state title game when Don Crosby (MBHOF Class of 2014) poured in 37 points.
The Bangor Daily News honored Giroux as a Third Team All-Maine Player in 1965 and a BDN First Team All-Maine Player in 1966. After his senior season, Dick was chosen to the Top 500 high school stars in the USA and an honorable mention to the Prep All-American team.
After high school, Dick took his game north, to Husson University in Bangor. And, what a collegiate career he had.
He was a four-year letter winner from 1967 to 1970, playing first for coach Del Merrill and then Bruce MacGregor (MBHOF Class of 2015).
Giroux became the fifth Husson player to reach the 1,000 point club and the first player to reach 1,500 point. He finished his college career wit 1,510 point and 964 rebounds in 86 games.
He left Husson as the leader in field goals made (633), second in games played, points, field goals attempted and rebounds.
Dick's honors at Husson include the 1968 Nelson Degrasse Award for team MVP. All-Maine Small College First Team Award in 1968, 1969 and 1970. He was an All-New England Small College First Teamer in 1969 and 1970
To this day, Giroux still ranks in the top 10 in several stat catagories.
In 1970, he helped lead Husson to its first ever NAIA postseason berth.
Giroux was inducted into the Husson Sports Hall of Fame in 1987 and the Lewiston-Auburn Sports Hall of Fame in 2006.
Dick and his wife, Jane, live in Bangor. They have two kids, Nicci and Brian.